The #1 search result on Google SERP gets nearly 32% of all the clicks!
Yes, the number is great and lucrative enough to attract any marketer's attention. However, the race to the top is never easy!
While a large number of businesses focus on SEO, the top ranking can obviously only be achieved by one of them. Fortunately, the SEO process can be optimized with the right technique and an air-tight implementation—the first step of which involves competitor research. Semrush is a strong performer in this area.
We're going to start with a quick introduction to competitor analysis in general. If you want to jump to how to use Semrush for it, you can read about that here. Or you can visit the Semrush website here.
So, let's get started.
What is Competitor Analysis?
The web is filled to the brim with websites, blogs, images, videos, and other forms of content. According to a recent report, a total of 1,986,154,062 websites were live as of January 1, 2023.
Hundreds and thousands of these websites rank for millions of keywords, using innumerable backlinks to drive quality traffic to their landing pages.
Competitor analysis allows you to unlock the keywords, backlinks, and content types that are creating results for your competitors in your competitive landscape. And as you start the process, Semrush will help you!
Why Is Competitor Analysis Important?
Whether you are starting a brick-and-mortar business in a popular market complex or setting up an online dealership for computer hardware, market research and analysis will always be important.
With the recent growth of blogging and content creation, most online business niches are well-covered. No matter how unique your idea sounds, someone has likely already though of and is enjoying traffic from it.
This is where competitor analysis comes into play. It helps marketers identify keywords that their organic competitors are ranking for. Similarly, competitor analysis helps marketers find content ideas, formats, backlink records, and similar data to divide their SEO efforts and multiply their results.
When should you use Competitive Research?
Competitive research is an important part of the SEO process.
Businesses and websites looking to gain traffic through search engines often need to track their competitors' content, backlink strategy, keywords they are ranking for, and other important SEO data. Gathering this information helps marketers plan and strategize their future marketing efforts.
For example, if your business sells water bottles, your competitors may be ranking for hundreds and thousands of keywords in this industry. A competitor analysis can help you identify their top-performing pages with respective keywords that are relevant to your product.
With this information, you can revisit your landing page design, optimize your link-building strategy, and incorporate keywords that are more actionable or are "easy to rank."
For such unparalleled benefits, it's advisable to always keep an eye on your competitors' keywords and backlink profiles. This can help you stay updated with their changing strategies and different search engines' evolving algorithms.
Additionally, if you are starting to optimize your website for search engines, competitor analysis is a must.
How to Perform an SEO Competitor Analysis using Semrush
Conducting a competitor analysis can be an elaborative process. SEMRush makes it a little less complicated and a lot more rewarding. Here's a step-by-step guide to help you use SEMRush for competitor analysis.
1. Identify Your Competitors
As we discussed above, certain competitor data helps SEOs optimize their digital marketing strategies for better results.
However, the process starts with the basics—figuring out who your indirect and direct competitors are.
There are a number of ways to identify your organic competitors, and the easiest is "asking!"
Whether you are managing an SEO campaign for your employer or client, asking them who the competitors are will simply solve the first challenge. However, this information may not always be available.
In such cases, SEMRush can help you identify your competitors. Here's a simple process to start with:
Step 1: Make a Google Search with your industry's popular keyword(s).
Step 2: Scan the SERPs for websites with mid-level domain authority. Here we are suggesting to exclude giants such as apple.com and amazon.com. The idea is to find websites that are neither the biggest nor the smallest in the industry.
Step 3: Make a list of five to ten such websites.
Step 4: Analyze these websites using the SEMRush tool, and you'll be presented with keywords these websites are ranking for.
Step 5: If the keywords align with your industry, the respective websites can be termed as your direct or indirect competitors.
2. Deciding Who Not to Compete With
Here's the important and interesting part. As we said earlier, most niches online are brimming with competitors, both small and big.
The question is: who should we compete with? Or, not compete with?
Business giants such as Amazon enjoy an established monopoly that makes it nearly impossible to outperform them. Plus, old and popular websites like Amazon have innumerable backlinks that suggest search engines favor them before nearly everything on the web.
For these reasons, it becomes impractical to compete with such websites. If you are starting your online business or looking to scale it, it'd be smarter to go for 'low-hanging fruits' before contesting against the established giants.
Revisiting the previous section can help you identify industry players in your competitive zone.
3. Find (and Close) Keyword Gaps
Here's good news for SEOs—SEMRush's Keyword Gap Tool allows marketers to compare keyword profiles of up to five competitors simultaneously.
All one has to do is enter all the domains in the tool, select the type of keyword rankings (organic, paid, or PLA), and click on "Compare."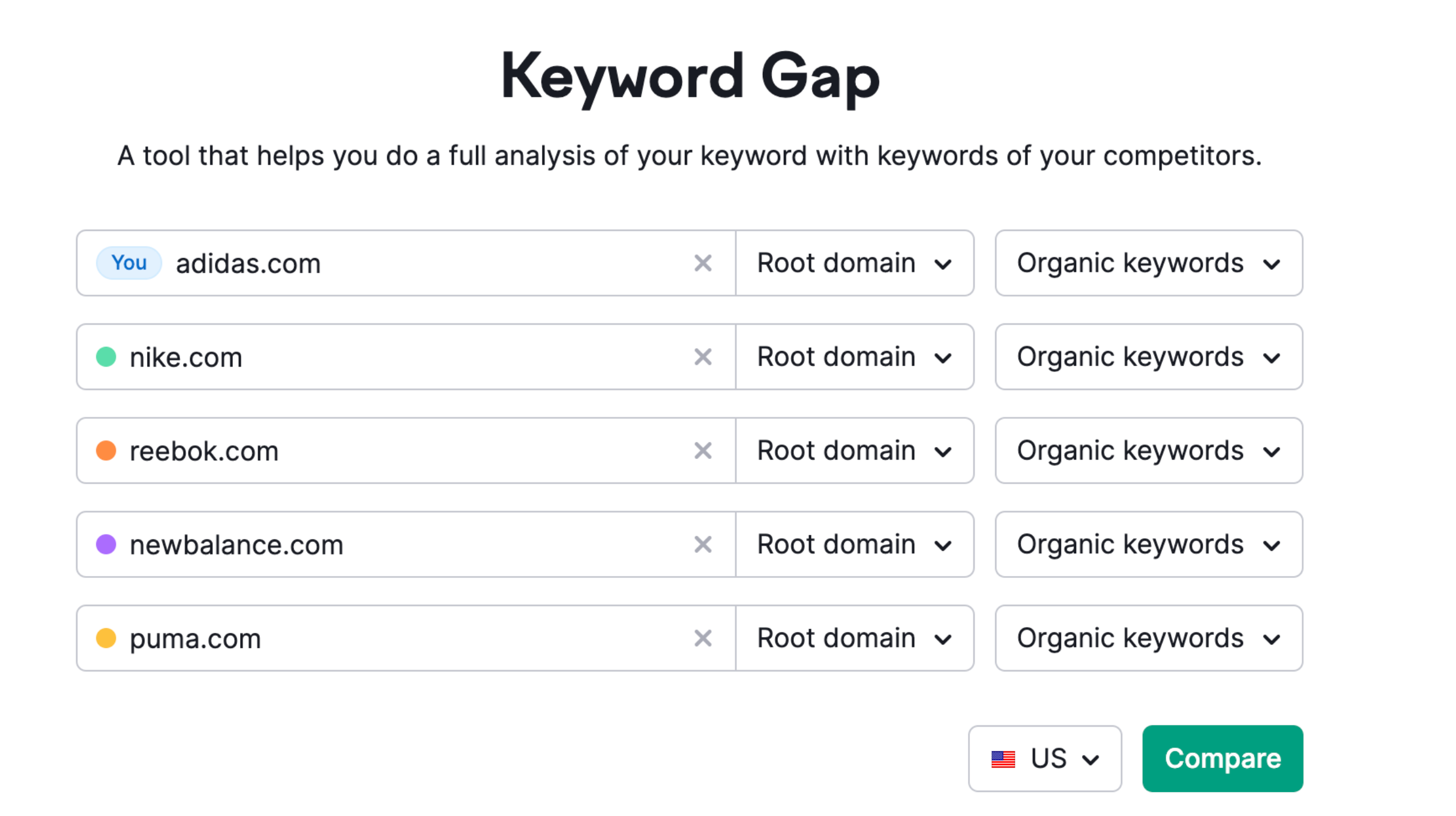 The tool will then present a thorough analysis including key factors such as:
Top Opportunities
Keyword Overlap
Keyword Table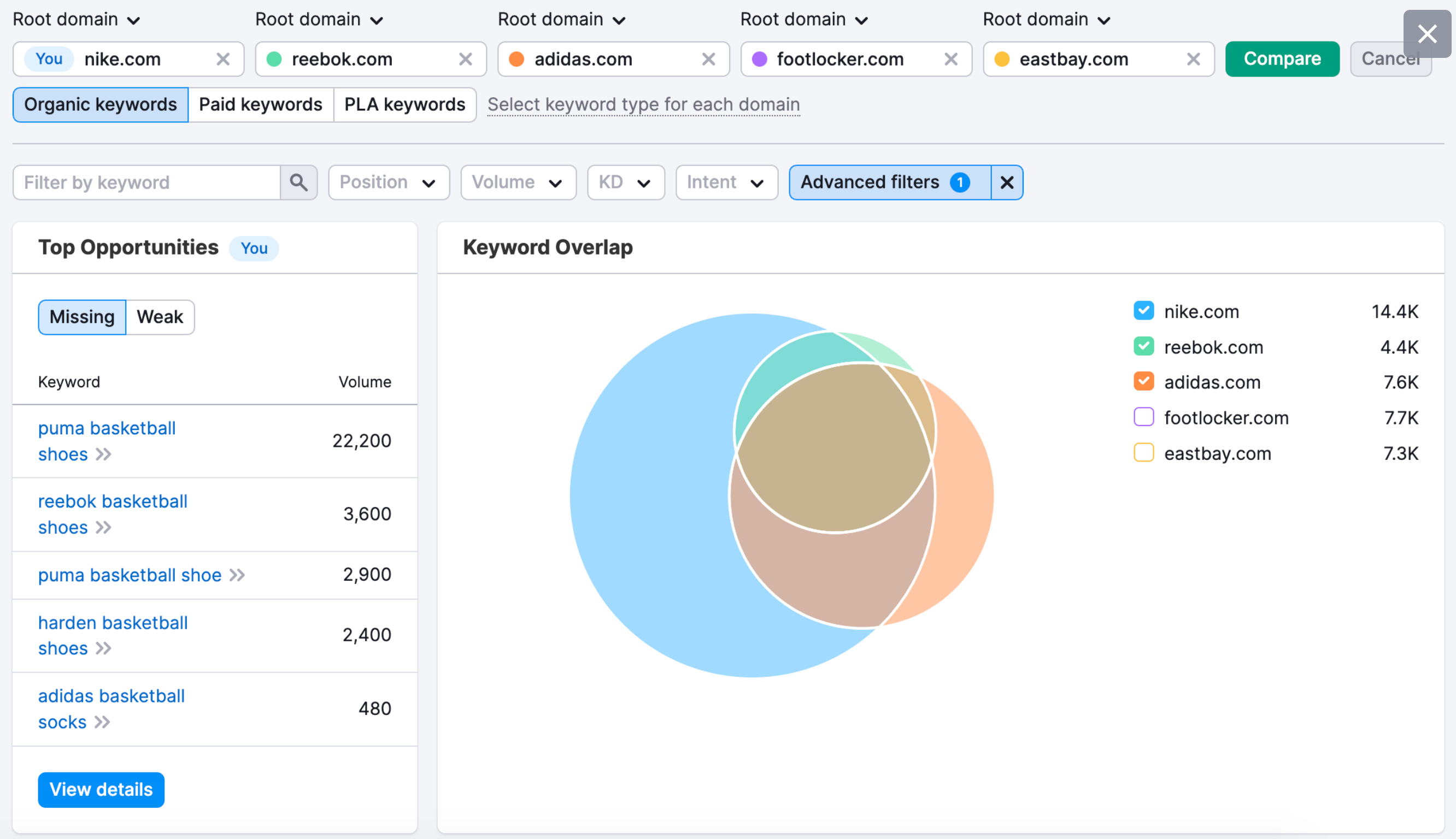 Additionally, SEMRush offers a wide range of options to filter your analysis. For more targeted analysis, SEOs can filter results by database, device type, or date range.
This detailed keyword data can help SEOs step up their keyword strategies and overcome existing keyword gaps.
4. Important Factors
By conducting a competitor analysis, marketers can pinpoint keyword gaps, content gaps, and their website's strengths and weaknesses. This helps us enhance our website's UX, content quality, interlinking strategy, and other factors that influence search rankings.
Authority
Competitor analysis helps marketers figure out where their website stands in the competition.
For example, if most of our competitor websites have an impressive domain authority (over 50) compared to our website's 40 or 35, we can explore the areas where our website is lagging behind.
Whether there's a need to optimize your backlink strategy or cover a bigger umbrella of keywords, it can be paid attention to.
Content
The mean word count of webpages ranking on the first page of Google search is 1,447. While this does not necessarily mean that SEOs across all industries should ensure their web pages have at least 1,448 words, it gives a rough idea of how in-depth information is prioritized by Google.
Competitor analysis can enlighten us about the average word count on our competitors' top-ranking pages, along with their respective keywords.
Apart from this, we can manually visit these web pages and analyze the content flow, information, and topics covered.
This information can help us enhance our content strategy, enabling us to keep up with the competition.
New Keyword Rankings
Running a competitor analysis can help marketers reveal untapped keywords with good potential. Many times, your competitor websites may enjoy good SERP rankings for such keywords. By conducting an analysis, you can figure out such keywords and modify your SEO strategy accordingly.
For smaller websites looking to boost their SEO results, it's advisable to target keywords with low competition. SEMRush helps identify such keywords.
Lost Keyword Rankings
Ranking a web page for a bunch of target keywords is a demanding process. It starts with thorough competitive research and proceeds with content creation, distribution, link building, and other important steps.
However, at times, for one reason or another, your website may lose its SERP rankings for certain keywords.
This can happen for a number of reasons. From poor content quality to a weak link-building strategy and search engine algorithm updates, anything can impact your SERP rankings.
Competitor research can help you find out whether your competitors have also lost their rankings or if their web pages have replaced yours in the SERPs.
This information can help you analyze and optimize your SEO strategy.
5. Analyze on a Page-by-Page Basis
Running a competitor analysis can enlighten marketers regarding various on-page SEO intricacies. Let's look at the important factors that influence on-page SEO on a subtler level.
Title Tag
Ideally, it's advisable to include your target keyword(s) in your web page's title tags. Competitor analysis helps you identify title tags that are performing well for your competitors.
Meta Description Tag
A meta description is an important part of any web page. Whenever a person makes a Google search, a meta description informs them about the contents of the web page they are going to access.
Apart from this, SEOs often consider meta description an important ranking factor for various search engines. For this reason, it's advisable to include suitable keywords in your meta description tags.
Header Tags
While header tags may not directly influence your website SEO, they make your content more comprehensible and engaging for your readers.
Using actionable header tags can keep your visitors engaged while accessing your web page.
URL Structure
Professional SEOs and reports suggest that URL structure is a minor Google ranking factor. Clearly, it holds the potential to impact your search engine rankings. For this reason, it's advisable to include keywords in your URL structure.
Content & Keywords
Using relevant target keywords in your content can help optimize it for search engines. Grammatically correct and natural usage of keywords across your content can inform search engines of your content's relevance to a specific bunch of keywords.
SEOs usually suggest maintaining a keyword density of 2%.
6. Review Backlinks
Backlinks are always important for SEO. While conducting a competitor analysis for backlinks, check for the following factors:
High-Quality vs. Low-Quality Backlinks
When backlinks are in consideration, it's always better to prefer quality over quantity. A smart link-building strategy will prioritize a diverse and qualified backlink profile over a populated but unauthorized bunch of backlinks.
Competitor analysis can help marketers tap into new link-building opportunities that can turn out to be fruitful.
No-Follow vs. Do-Follow Backlinks
Do-follow and no-follow are two types of backlinks that SEOs can build. For developing a link-building strategy, it's advisable to understand what these types mean.
While a do-follow backlink contributes to the authority of a website, no-follow links do not. Do-follow links are often preferred over no-follow links as they allow link-juice to pass and help boost authority.
However, a good backlink profile should be a mix of natural no-follow and do-follow backlinks.
SEMRush tools help users identify no-follow and do-follow backlinks directed to a website.
Backlink Gaps
Conducting a competitor analysis can help you identify any backlink gaps. SEMRush's Backlink Gap Tool makes the process easier and more efficient.

This tool allows us to run a side-by-side backlink comparison between two websites. The report compares different referring domains linking to these websites. Primarily, a backlink gap report helps us identify various domain names that are linking to our competitors but not to us.
This can help us optimize our link-building strategy for better results.
However, it's important to note that all backlinks do not hold the same value; hence strategy should be modified thoughtfully.
7. Analyze Content Types
While blogs and articles are known to drive the highest amount of SEO traffic to websites, other forms of content, such as videos, infographics, webinars, and landing pages, can also attract visitors.
A winning content strategy is one that focuses on different content types that are performing well in the niche. This is where competitor analysis can help.
With the help of SEMRush, we can find our competitors' top-ranking web pages, videos, blogs, and infographics. Based on this information, we can modify our content strategy and focus our efforts on content types that perform better.
8. Grab Featured Snippets
In January 2020, Google introduced "Featured Snippets" and encouraged marketers to include this in their SEO strategies.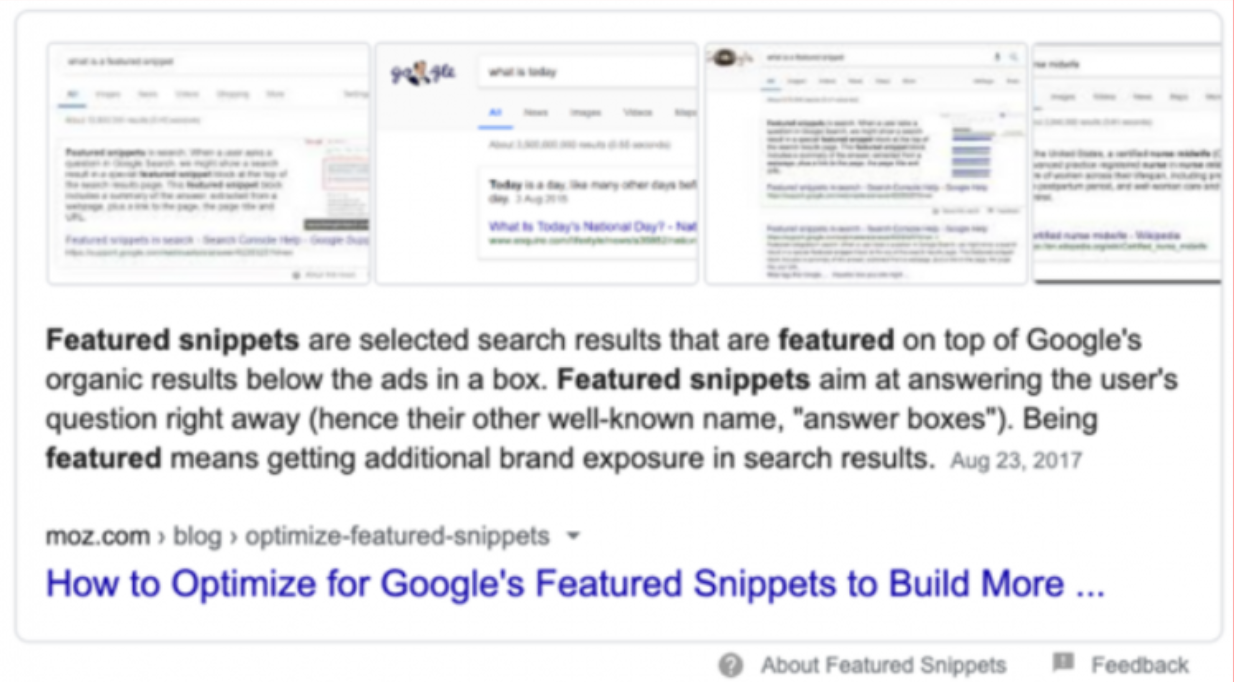 Since then, the popularity of featured snippets has grown, and hence it's advisable to strategize featured snippets for your website.
While conducting competitor analysis for a keyword, make sure to analyze your competitors' featured snippets and optimize yours accordingly.
SEMRush's advised content length for featured snippets is 40-50 words.
Analyze Competitor Activity Data with Your Own Goals and Strategy in Mind
SEMRush is a useful tool that becomes super-useful for SEOs looking to step up their marketing game. From finding relevant keywords to building a content marketing strategy, SEMRush helps marketers do it all.
However, for optimum results, SEOs must build a winning SEO strategy that complements their goals and marketing efforts.
In this blog, we shared a detailed guide on using SEMRush for competitor research and analysis. While this information can help you reap better SEO results in most cases, it's also advisable to closely analyze your niche and modify your SEO strategy accordingly.
Start Your Competitor Analysis with Semrush Tools and Data
In the guide above, we discussed various SEMRush tools that help us identify content gaps, keyword gaps, and backlink gaps in our SEO strategy. With the help of these tools, marketers can feel more confident while developing an SEO strategy. From content length to keyword usage and backlink preferences, everything can be understood and optimized using these tools.
If you own a business, a website, or a blog, using SEMRush could be your best bet for stepping up your SEO game. You can find them at https://www.semrush.com/.